Art binds together age-old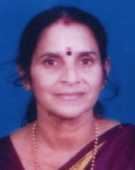 tradition and culture and links together human hearts. Dance is such a form of art which transcends human existence thereby enabling the artist to experience oneness with the Almighty.
Radha Marar is one such rare and blessed danseuse in our country. A well accomplished and seniormost dancer in the field od Bharatanatyam & Mohiniyattam. She is a graduate of the world famous Kerala Kala Mandalam. She has learnt Mohiniyattam under the tutelage of late Guru Chinnammu Amma & Guru Smt. Kalamandalam Satyabhama. She has undergone training in Bharatanatyam under renowned Gurus such as Guru Tanjavoor Bhaskara Rao, Guru Pantanelloor Swaminatha Pillai, the Late Guru K.J. Govindarajan.
Radha Marar is the Founder Director of "Kala Madhuri" based at New Delhi. She has been imparting training in these dance forms for the last 30 years. Some of her senior disaples like Bharti Shivaji, Deepti Omcherry Bhalla are wellknown dancers today. She has been performing in India and abroad for several years now. Her performances have all along been highly appreciated by dancers, critics and art lovers alike. Felicitated with numerous awrds, Radha Marar's contribution to the enrichment of cultural scene in the capital deserves special mention. She is at present head of Department of Performing Arts of a prestigious public school in Delhi. She is also the Resource Person to various institutions under the Government of india.