KATHAKALI
Kathakali is the classical dance-drama of Kerala, South India, which dates from the 17th century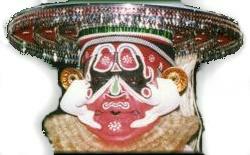 and is rooted in Hindu mythology. Kathakali has a unique combination of literature, music, painting, acting and dance. In the following pages we have placed photographs and videos of Kathakali performances and songs by famous Kathakali singers.
Vandana Slokam
(the first song at the starting of Kathakali performance) by Palanad Divakaran & Kottakkal Madhu We have an entertainment site with Kathakali songs, Kathakali screen saver and wall paper, and lot of audio entertainment.
Audio Entertainment with Kathakali Songs, Kathakali Videos..
Pictures of leading Kathakali artists in great performances are placed in the site. Some of them are very rare photographs of old Kathakali legents.
Pictures of Kathakali Performances
Small video clippings of Kathakali are available at the site. The videos compressed in Real format, are slightly low in quality.
Video Clippings of Kathakali
More details about Kathakali like Costumes, Make-up, Music, Dance, Major Kathakali Centres etc. are at
About Kathakali
And a rare collection of Navarasas (facial expressions of nine different moods) by renowned Kathakali actor Kalamandalam Krishnan Nair
Navarasam by Kalamandalam Krishnan Nair
Kathakali follows "Hasthalakshana Deepika", the book of hand gestures, for Mudras (hand gestures).
Mudras in Kathakali
Essential Props, Rituals, Characters and their attire, Cholliyattam, Ilakiyattam etc
Props, Rituals and Customs of Kathakali
As listed below, we are building a database of Kathakali artists. One webpage will be made free for each artist and linked in this page along with below list of artists. If you are a Kathakali artist or if you wish to recommend any artist, you can send the following materials to our email ID

. Valid submissions will be scrutinized, edited and placed in the site within 3 weeks.
A passport photo (JPG format, maximum 200 Kb)
A performance photo (JPG format, maximum 400 Kb)
Three or four paragraphs of summarized text (electronic form, typed as plain text email or attached as txt or doc file) about artist's life and achievements in the field. The text shoud be as abridged as possible, 3-4 good paragraphs of most important things about the artist, in summary form, not listed form.
Contact details like postal adress, phone, fax and email ID.
Above materials to be sent to our email ID

Photographs & Songs of Kathakali
(Press the Image to Enlarge)







































[About Kathakali] [Evolution] [Props, Rituals and Customs] [Mudras] [Navarasam] [Photos] [Artists] [Videos]
Kathakali Actors | Kathakali Singers | Chenda Artists | Maddalam Artists | Chutti Artists | Chamayam Artists