Kathakali is the classical dance-drama of Kerala, South India, which dates from the 17th century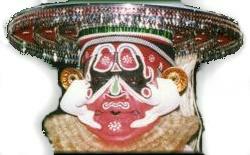 and is rooted in Hindu mythology. Kathakali has a unique combination of literature, music, painting, acting and dance. In the following pages we have placed photographs and videos of Kathakali performances and songs by famous Kathakali singers.
For playing the video and audio you may need to install Real Player or Real Alternative. You can check the audio by listening to the Vandana Slokam (the first song at the starting of Kathakali performance) by clicking the PLAY button below:

Vandana Slokam by Palanad Divakaran & Kottakkal Madhu
We have an entertainment site with Kathakali songs, Kathakali screen saver and wall paper, and lot of audio entertainment.

Audio Entertainment with Kathakali Songs, Kathakali Videos..
Pictures of leading Kathakali artists in great performances are placed in the site. Some of them are very rare photographs of old Kathakali legents.

Pictures of Kathakali Performances
Small video clippings of Kathakali are available at the site. The videos compressed in Real format, are slightly low in quality.

Video Clippings of Kathakali
More details about Kathakali like Costumes, Make-up, Music, Dance, Major Kathakali Centres etc. are at

About Kathakali
And a rare collection of Navarasas (facial expressions of nine different moods) by renowned Kathakali actor Kalamandalam Krishnan Nair

Navarasam by Kalamandalam Krishnan Nair
Kathakali follows "Hasthalakshana Deepika", the book of hand gestures, for Mudras (hand gestures).

Mudras in Kathakali
Essential Props, Rituals, Characters and their attire, Cholliyattam, Ilakiyattam etc

Props, Rituals and Customs of Kathakali