V.P. Ramakrishnan Nair was born on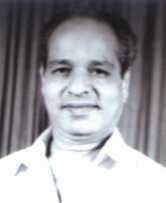 April 4, 1937 in Koottanad, Palakkad District. His father is Mr. K. Padmanabhan Nair and mother is Mrs. Sreedevi Amma.
He learned Kathakali for 12 years under gurukula system after his high school education. Practised Kathakali under many famous teachers namely Natyacharya Thekkinkattil Ravunni Nair, Kunchu Nair, Kochugovindanaasan etc.
Has worked as performer, teacher, for 30 years, in various organizations such as 'Darpana', Ahmedabad, International Kathakali Centre New Delhi, Gandhi Seva Sadanam, Perur and lot of Kathakali Kalaries in India and abroad. He is proficient in all types of characters in Kathakali, and favourites are "Kathi", "Pacha", "Minukku" and "Kari" characters.
Has received many Awards from various organizations and eminent personalities including Kalamandalam Award, K.N. Pisharodi Smaraka Award, recognition from Kathakali clubs of Trichur, Irinjalakkuda, Alappuzha, Peringode etc.
Family: Wife, one son who is computer professional and one daughter high school teacher, married.