KERALA NATANAM
Kerala Natanam or Kerala Dance is a novel art form evolved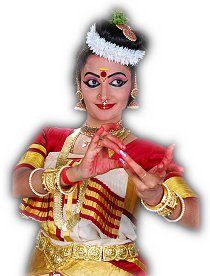 from Kathakali and is comprised of nritha (absolute or pure dance) nrithya (dance with music and gesticulations) and natya (dramaturgy) and angika (body gestures), vaachika (verbal), aahaarya (costumes and make up) saatvika (of temperaments and involuntary status) abhinaya (acting), in accordance with the thala mela (rhythm) order of the percussion instruments used in Kerala. The art form of Kerala Natanam was created and composed by Guru Gopinath.

Kerala Natanam is comprised of Nritha, Nrithya and Natya based on traditional Kathakali, without detracting from its basic tenets but has some of its complex involutions and intricacies. Though it has originated or evolved from Kathakali, it is neither Kathakali nor an attempt to reform or redefine it. In simple words Kerala Natanam is a classical dance following rudiments of 'Natya Shastra' and practicing basics of Kathakali techniques.
It is a classical dance suited for both men and women. It is not confined to men alone as Kathakali was.
It is ideal for solo, duet and group performances and is designed for dramaturgy - Nataka Natanam and ballets.
It is universal because it is stylised and choreographed with a universal audience in mind. It is more lokadharmi in approach without deviating from the classicism.
It was this dance, which made dancing popular, communicative and enjoyable to masses.
Article Credits: Gayathri Subrabaniam
As listed below, we are building a database of Kerala Natanam artists. One webpage will be made free for each artist and linked in this page along with below list of artists. If you are a Kerala Natanam artist or if you wish to recommend any artist, you can send the following materials to our email ID

. Valid submissions will be scrutinized, edited and placed in the site within 3 weeks.
A passport photo (JPG format, maximum 200 Kb)
A performance photo (JPG format, maximum 400 Kb)
Three or four paragraphs of summarized text (electronic form, typed as plain text email or attached as txt or doc file) about artist's life and achievements in the field. The text shoud be as abridged as possible, 3-4 good paragraphs of most important things about the artist, in summary form, not listed form.
Contact details like postal adress, phone, fax and email ID.
Above materials to be sent to our email ID