Bharatanatyam, also spelt Bharatnatyam or Bharathanatyam, is a classical dance form of South India, said to be originated in Thanjavoor of Tamil Nadu.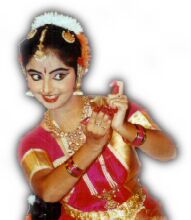 It was known as "Daasiyattam" since performed by Devadasies in temples of Tamil Nadu long ago. The name 'Bharatanatyam' is derived from three basic concepts of Bhava, Raga and Thaala. The modern Bharatanatyam was systematically regularized by well known 'Thanjavoor Brothers', Ponnayya, Chinnayya, Sivanandam and Vativelu.
The dance is performed in the stage as Nritham, Nrithyam and Natyam. Bharatanatyam is based on the theories of the books 'Natyasaasthram' and 'Abhinaya Darpanam'. The dance form is based on 'Adavu' (steps) and 'Hasthamudra' (hand gestures). There are 64 basic 'Adavu' and they are divided into 9 parts, on which 'Thattadavu', 'Naatadavu', 'Kuthithumettadavu', 'Mandiadavu', 'Sarikkal' and 'Thattumettu' are very important. Communication is done through 'bhavabhinaya' (facial expression) and 'hasthamudra' (hand gestures). The performance starts with the prayers to God Ganapathi and worship of Nataraja Moorthi.
The sequence of the dance performance is 'Alarippu', 'Jathiswaram', 'Sabdam', 'Varnam', 'Padam' and 'Thillana'. After 'Thillana', with a 'Mangala Slokam' the dance program ends. Normally the performance lasts for two to two and half hours.
The costume is paijama and jacket of Kanchipuram silk and Banaras silk. The dancer wears a lot of ornaments of shining stones on neck, ears, hands, and head, jasmin garland in the hair and foot trinklet with small bells.
The music of Bharatanatyam is based on Carnatic classical music. The instruments used are Veena, Flute, Mridangam and Violin. The dance direction is done by 'Nattuvanar' giving the Thaalam using hand symbols and singing 'Vaaythari'. There will be two singers also.
Some of the famous Bharatanatyam performers are Bala Saraswathi, Mrinalini Sarabhai, Rugmini Arundel, Kamala Laxman, Padma Subrahmaniam and Chithra Visweswaran. Panthanalloor Meenakshi Sundaram Pilla, Panthanalloor Chokkalingam Pilla, Padmasree Vazhoor Ramayyan Pilla and Adayar Laxman are some of the famous 'Nattuvar'.