Kalaimamani Sailaja
Prof. Kalaimamani Sailaja is an outstanding Bharathanatyam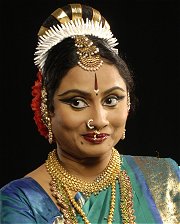 and Kuchipudi artist with three decades of experience both in the national and international stage. Under the intensive tutelage of world class gurus, Kalaimamani KJ Sarasa and Padma Bhushan Vempatti Chinnasatyam, Sailaja has won several international and national awards and recognition. Apart from training students in her Academy, Sailaja is also an adjunct professor at the faculty of Dance in Annamalai University.
Bharathanatyam
Sailaja is an artist blessed to be trained under reputed doyens of Indian Classical Dance. Her passion for dance initiated her into the Vazhuvoor style of Bharathanatyam at a very early age of five under the renowned Guru, (Late) Smt. K. J. Sarasa for 18years. After her formal training she evolved as an artist of excellence. A devoted and disciplined dancer she enriches her Bharathanatyam repertoire with new concepts, identities, and values retaining the nuances of tradition, establishing herself as a successful performer and a thinking choreographer over the last three decades. Known for her immaculate footwork, gazelle-like grace and exquisite abhinaya, she has created an identity for herself synonymous to the style itself. Her passion for this style of dance is reflected in her performances and in training students with precision, both from India and abroad. Sailaja is always known for her strict adherence to the traditional repertoire winning the appreciation of the critics. On the other hand, her group productions as well as solo Choreographic works always showcase her with a stamp of a skilled master, who understands her audience and connects to them instantly. The secret to this success is her conscious effort in maintaining the balance of being rooted in tradition, yet never leaving any stone unturned in enriching her dance with intelligent innovations, expanding into new horizons and exploring new boundaries. In recognition she has received the Tamilnadu Highest State Award "Kalaimamani", also is an accredited senior empanelled artist of ICCR and an A-Graderanking artiste of Doordarshan.
Kuchipudi
After her unstinted training in Bharathanatyam Sailaja's appreciation for dance in its many forms brought her to train under the legendary Padmabushan Dr. Vempati Chinna Satyam to expand her expression of art. Imbibing the Vempati style of Kuchipudi she has carved a niche for herself as an accredited solo performer and top ranking artist. Her choreography involves intricate, graceful movements set along with captivating abhinaya. Sailaja mastered the skills, inherited the tradition, imbibed the qualities, enriched the repertoire and expanded into new horizons of themes for her dance dramas and solos. She chiseled them with her inimitable choreography skills, always keeping the two styles pure, precise and exclusive. What marks Sailaja is her total involvement, complete commitment and consummate dedication. Sailaja's repertoire in Kuchipudi is an evolving canvas with signature solo presentations such as Mahishasura Mardini, Sankara Srigiri, Viksheham and others. She also has to her credit the ballet presentation of Tagore's Chandalika in Sanskrit and thematic presentations like Pibare Rama Rasam, Madhura Bhakti, Satyam Sivam Sundaram and many more.
Contact Details:
Kalaimamani Sailaja
Saila-Sudha Academy for Excellence in Bharathanatyam and Kuchipudi
New No.33 (Old No.21), Chamiers Road, Nandanam
Chennai - 35, India
Telephone:
044-42110994 / 9962052882
E-mail:
info@sailajanritya.com
» Next Artist