Mrs. Rashmi Joji John had been learning the art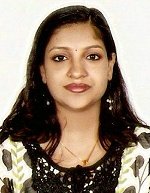 form since the age of 5 under Shri. P.S Manu. She has completed 4 year Diploma in Bhartnatyam from Kalashetra Foundation (Rukmani Devi College of Fine Arts), Chennai, India. She steadily stood first throughout her dancing formation and later became the Dance teacher at St. Thomas Higher Secondary School, Bhopal, India. She is known for her crisp and precise "Advaus"and subtle nuances of "Abhinaya".
She has 3 years teaching experience as a dance teacher at a CBSE School in Bhopal, India, and has imparted her dancing skills to the young and willing upcoming dancers at her own dance institution in Bhopal.
She has done numerous solo and group stage performances at State and National levels and has won numerous awards and certificates. She has also been awarded First Position during "Madhya Pradesh State Youth Festival" held in 2000.She had been teaching Indian classical dance and Indian folk dance styles for 3 years now and her expertise is in "Bhartnatyam". Has played roles in Kalakshetra Dance Drama and choreographed many performances.
In India she has done programmes in Guruvayour, Kerala, in Gujarat for National youth Festival, in Agra for J.P Hotel and Eureka Forbes ltd. She has also been actively associated with social organization like Bhopal Malyalee Association (BMA), United Malyalee Association (UMA) and HEMA and has performed several charitable stage programmes for them and also conducted summer camps for these organizations.
Her passion for this art form has driven her to continue teaching Bharatnatyam to the young and talented in UAE, She mostly takes private classes in UAE at present.