Rumya Shanker, the daughter of Shri V. Gowri Shanker,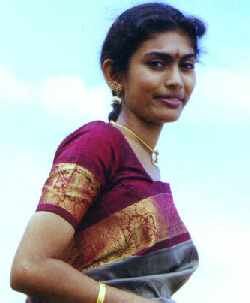 hails from a family of illustrious academicians. Despite being exposed to a high level of academics, her heart led her onto a different path - a path more soul stirring - a path to dance. The finest of art forms. She began her training in dance at a very tender age and followed it through her schooling as a part-time student at the world renowned Kalakshetra. After completing a five year certificate course as a part time student she chose to pursue it as a career. She joined Kalakshetra as a full-time student in 1998 and graduated with flying colours under the able guidance of Guru Smt. Ganga Thampi. She then pursued her post diploma in Kalakshetra.
Rumya has been an integral part of the Kalakshetra troupe and has toured India extensively. She has participated in almost all the productions of Kalakshetra. Hailing from a family of lawyers and journalists she did her B.A English Literature through correspondence education from the University of Madras and wishes to do a certificate in journalism in order to give vent to an inborn flair.
Her dance depicts her deep understanding of the subject and her passion for the art with her abhinaya remaining her strength. Besides being a good performer she is a very good critic and a good observer of the art form.