Sadanam Vasudevan was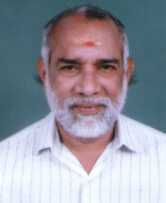 born on Nov 20, 1945. His father is C. Gopalan Nair and mother is Meenakshi Amma.
After his primary education upto SSLC he began learing Kathakali Chenda from 1963 to 1966 in Peroor Gandhi Seva Sadanam under Pallassana Chandra Mannadiar. During his school times itself he began to learn Chenda (Thayampaka, Melam etc.) under his father and his first performance (Thayampaka) was at the age of 6½. From 1966 he worked as Kathakali Chenda Teacher in Peroor Gandhi Seva Sadanam and from 1975 worked in Government Central High School, Thiruvananthapuram as Chenda Teacher and retired in March, 2001.
Has performed in many Thayampaka, Melam and Kathakali performances all over India and in many foreign countries like Russia, Poland, Checkoslovakia, Yugoslavia, Germany, Japan, Hongkong, Belgium, Lexsuburgh, England etc.
Has received Gold Medal from Thiruvangottu Sri Rama Temple, Thalassery in 1965. Also many Awards like Mankulam Vishnu Namboothiri Award from Alappuzha Kathakali Club, Kollam Kathakali Club Award, Chalakkudy Kathakali Club Award, Award from Unnayi Warriar Smaraka Kathakali Club, Iringalakkuda, Award from Gandhi Seva Sadanam Kathakali Academy and Honours from Pattikkamthody Smaraka Trust.
Family: Wife Kanakam. Two sons Sujith and Ranjith.