Kalamandalam Unnikrishnan was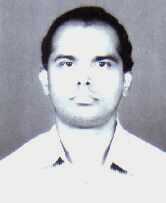 born on Oct 10, 1958. His father is Late Ramakrishnan Nair and mother is Maniyattu Dakshayini Amma.
He began to learn Chenda from the age of eight itself under Narayana Kurupu and after his primary education of 8th he joined Kerala Kalamandalam and learned Kathakali Chenda from 1972-77 under Kalamandalam Chandra Mannadiar and Kalamandalam Achunni Poduval and completed Diploma of 4 years and Post Diploma of 1 year. In 1982 he joined as Chenda Teacher in Kerala Kalamandalam and from 1990 he is the Professor and Head of the Department of Chenda.
Has received 'Artist of the year Award' from Keli of Mumbai in 1997. Has participated in many Kathakali performances in all main cities of India and in foreign countries like France, Italy, England, Thaiwan, Thailand, Iran and Mauritious. Has performed in Sheakspear Theatre Globe of England for 13 days and has performed Chenda for all famous leading artists.
He is also performing 'Thayampaka', but is more interested in Kathakali Chenda.
Family: Wife Kalamandalam Sudha (has completed Bharathanatyam and Mohiniyattam course of 7 years from Kerala Kalamandalam and now working as Dance Teacher) and two daughters SreeRenjini and KavyaSree. Brother Kottakkal Ravi is one of the famous Maddalam Artists and is working in P.S.V. Natyasangham, Kottakkal.