Late Kalamandalam Sankaran Embranthiri was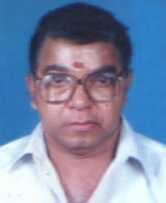 born on Sept 7, 1944. His father is Krishnan Embranthiri and mother is Ambika Antharjanam.
After his Upper Primary education he joined Kerala Kalamandalam and learned Kathakali Music from 1957-65 under Kalamandalam Neelakandhan Nambeesan, Kalamandalam Sivaraman Nair, Kavungal Madhava Panikkar and Kalamandalam Gangadharan. Also learned Carnatic Music under G.P. Govinda Pisharody, Thripunithura Sankara Warrier and M.R. Peethambara Menon. Was Kathakali Music Teacher in Unnayi Warrier Smaraka Kalanilayam from 1965-70. From 1970 working in the Fine Arts Wing of FACT as Kathakali Music Teacher.
Has participated in many Kathakali performances all around India and foreign countries of South America, North America, Europe, etc. Has got Kottarakkara Thampuran Award and 'Suvarna Mudra' from Kollam Kathakali Club in 1981, honoured with the title 'Sangeetha Rathnam' and 'Veerasrunkhala' in 1985 during the Kathakali Sangeetha Rajatha Jubilee Ceremony, honoured with the title 'Kathakali Gaana Praveena' by Kerala Fine Arts Society in 1989, got Kerala Kalamandalam Award in 1990. In 1992 honoured with the title 'Sangeetha Rathnam' and received 'Suvarna Mudra' from Kerala Kalamandalam (Before him this award was given only to Chembai Vaidyanatha Bhagavathar during Vallathole's time). In 1994 got Dr. K.N. Pisharody Award, got Unnayi Warrier Award in 1998 from Unnayi Warrier Smaraka Kalanilayam and in 1999 received 'Thouryathrika Puraskaram' from Eranakulam Kathakali Club. Apart from these he got 'Suvarna Mudra' from Thiruvananthapuram Kathakali Club and he was elected as one of the 'Millennium Personalities' of Asianet. Also selected in Manaveeyam 'Prathibha Pranamam' in March 2001.
Has published many Cassettes, LP records and CDs of Kathakali Music. Has produced a documentary directed by Vinu Vasudevan. Eventhough he was undergone kidney transplantation in 1991, he is active in Kathakali performances.
Family: Wife Savithry Antharjanam. Two daughters Sindhu and Resmi.