Muraleekrishnan G. was born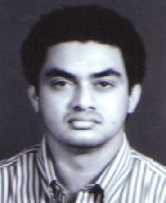 on May 5, 1971. His father is Mathoor Govindan Kutty and mother is A.K. Rajeswary. His education level is M.A and BEd.
He started learning Kathakali at the age of 8, under Kalamandalam Ramakrishnan and continued it for 10 years. He has learned under Kalamandalam Krishnan Nair and Kalamandalam Vasu Pisharody also. His expertise is in in "Minukku" (Sthree) and "Pacha" characters.
Has received first prizes for 6 years in school and college level youth festivals. Also received Kottayam Kaliyarangu Award, Scholarship from Human Resource Dept etc. Has acted in a documentary about Kalamandalam Krishnan Nair as his childhood stage. He is performing all around Kerala in Kathakali clubs. Presently working as Malayalam Lecturer in C.M.S. College Kottayam.
Family: Mother A.K. Rajeswary is the daughter of renowned Kathakali artist Kudamaloor Karunakaran Nair. Father Mathoor Govindan Kutty is a renowned Kathakali actor. The family is well-known for 'three generations' of Kathakali artists.