Kalamandalam Gopalakrishnan was born on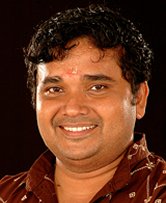 Dec 1, 1967. His father P. Shankaran Nair was a freedom fighter and his grandfather was Great Malayalam Poet Mahakavi P. Kunjiraman Nair.
His primary education is S.S.L.C and later did Diploma in 'Kathakali Vesham' from Kerala Kalamandalam. Has done 700 stage performances in and out of India since 1984. Has toured in France, Italy, Spain, Poland and Belgium.
His expertise is in "Pacha", "Kathi", "Thadi", "Vellathadi" and "Minukku" characters.
He has assisted in the production of many malayalam films and has acted in the Kathakali "King Lear". Presently he is working as Art Director in Kerala Kalabhavanam, dance teacher in NandanKalodayam and Kalatharangini in Cheruthuruthy. Recently Central Goverment's cultural department awarded him the scholarship for young artists