Kalamandalam Saseendran was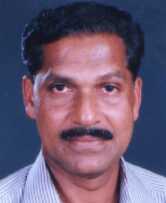 born on Sept 21, 1951. His father is Krishna Pilla and mother is Gouri Amma.
At the age of 11th he started learning Kathakali under Panavalli Padmanabha Pilla for 2 years. His first performance was at Perumthuruth SreeKrishna Swamy Temple as 'Sreekrishnan'. After that he continued his studies under Nattakam Velu Pilla. At that time he used to work under Thottakam Gopala Pilla. After passing S.S.L.C. he joined Kerala Kalamandalam and passed Diploma in Kathakali of 6 years and then studied with India Govt Scholarship for 2 years. Has practiced Kathakali under Kalamandalam Padmanabhan Nair, Kalamandalam Raman Kutty Nair and Kalamandalam Gopi. Then has continued his practice under Kalamandalam Krishnan Nair also. Now he is working as Forest Guard. His expertise is in "Pacha", "Kathi", and "Thadi" characters.
Has performed Kathakali all around Kerala and India and in foreign countries like China, Hongkong and Korea.
Family: Wife Rugmini and daughter Resmi and son Sarath Kumar.