R.L.V. Usha Priyadarsini
R.L.V. Usha Priyadarsini was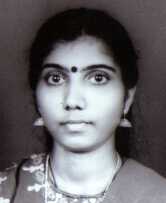 born on June 3, 1975. His father is Viswanatha Panickar and mother is Padma Viswanathan. She is learning Kathakali from R.L.V.Damodara Pisharody, R.L.V.Gopi, Kalamandalam E.Vasudevan and Kalamandalam Haridasan. She also studied Mohiniyattam from Kalamandalam Kalyanikutty Amma and Kala, and Bharathanatyam from R.L.V.College of Music and Institute of Fine Arts under Koothatukulam Radhamani and passed Diploma and Post Diploma. She has also learned Kathakali 'chutti' under Kalanilayam Saji. Her expertise is in in "Minukku" (Sthree) characters like Damayanthi, Panchali, Lalitha etc. Her primary education is upto Pree Degree. Has performed Kathakali all around India. Now working in Thripunithura Women Kathakali troup.
Contact Details:
Kumari R.L.V. Usha Priyadarsini
Kiliyanthara Parampu
Thripunithura (P.O),
Eranakulam
Kerala, INDIA.
R.L.V. Usha Priyadarsini as Damayanthi in Nalacharitham Onnam Divasam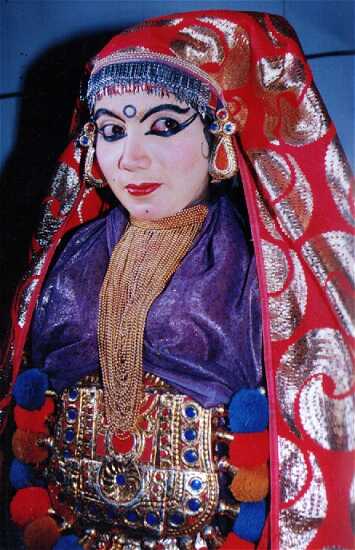 » Next Artist
Kathakali Actors | Kathakali Singers | Chenda Artists | Maddalam Artists | Chutti Artists | Chamayam Artists
[Kathakali] [About Kathakali] [Evolution] [Props, Rituals and Customs] [Mudras] [Navarasam] [Photos] [Artists] [Videos]