Kalamandalam Vasu Pisharody was born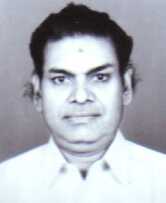 on Aug 15, 1943 in Palakkad District. His father was T.P.Rakhava Pisharody and mother was M.P.Lakshmikutti Pisharasyar. His primary education is upto 7th.
He learned Kathakali after his 7th in Kerala Kalalayam, Ottapalam under Kalamandalam Balakrishnan Nair for 1 year. Later he joined P.S.V. Natyasangham for 3 years and in Kerala Kalamandalam for 6 years under Padmasree Vazhenkada Kunchu Nair. Has practised also under Ramankutty Nair and Padmanabhan Nair from Kerala Kalamandalam. He continued his education for 2 years there with the Scholarship of Central Govt. He finished his studies in 1969 and worked there as teacher in temporary post till 1979. During that time he worked also in the 'Kalaries' managed by Guruvayoor Kathakali Club as teacher. From 1979 to 1999 he worked as teacher and Head of the Department of Kathakali Vesham, in Kerala Kalamandalam and retired on 1999 March.
Vasu Pisharody has performed Kathakali all over India and visited foreign countries about 20 times. Expertise is in the characters like Nalan ("Pacha") and Bahukan ("Pacha") in 'Nalacharitham', Ravanan ("Kathi") in 'Udbhavam' and 'Bali Vijayam', Keechakan ("Kathi") in 'Keechaka Vadham', Narakasuran ("Kathi") in 'Narakasura Vadham', Brahmanan ("Minukku") in 'Santhanagopalam', and Prasuraman ("Minukku") etc.
Has got many awards like Kalamandalam Award, from different Kathakali clubs namely Kollam, Iringalakkuda, Drisyavedi, Trivandrum, many Medals and "Veerasringhala" etc.