Kalamandalam Rajasekharan was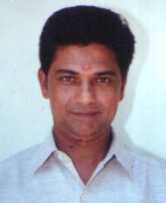 born on Nov 25, 1954. His father is P.N. Madhava Kurup and mother is Thankamma Amma.
After 9th standard, he started Diploma in Kathakali vesham in Kerala Kalamandalam from 1969 to 1975. He was trained under Madavoor Vasudevan Nair, Ozhur Kochugovinda Pilla and Karthikappally Kuttappa Panicker. His expertise is in in "Minukku" (Sthree) characters. Presently he is the Vice-Principal of Kerala Kalamandalam.
Has received Central Govt. Cultural Dept Senior Fellowship, A.D. Boland Gold Medal, Kollam Kathakali Club Award etc.
Family: Wife Kalamandalam Shailaja is teacher in Kerala Kalamandalam. Two sons Sarath Chandran and Vaisakhan.