Thalavady Gopinathan was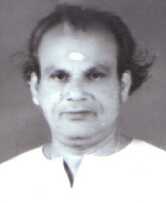 born on May 1, 1944. His father is K.V. Raghava Varma and mother is Thankamma.
During his school education itself he began to learn Kathakali under Thalavady Pachu Nair and won many prizes in State and District level. His first performance was on 1955. After his high school he learned kathakali under Guru Chengannoor for eight years. Has worked at International Kathakali Centre, Delhi in 1970. Has run a Kathakali school at Thiruvalla from 1971 - 74 and from 1980 - 86 has worked as Kathakali Teacher in Kannan Chira Krishna Pilla Memorial school. Participating in almost all Kathakali performances in Sree Vallabha Temple, Thiruvalla. Has performed as Daivadoothan in the Kathakali 'Abrahaminte Bali' presented by Dooradarsan.
Has expertised in 'Pacha' (Krishnan, Bheeman and Arjunan), 'Minukku' (Brahmanan in Santhanagopalam, Sundara Brahmanan, Santheepani, etc.), 'Kathi' Characters, Hamsam, and Hanuman.
Has performed Kathakali all over India. Received Sree Vallabha Award of 2000 and Guru Chengannoor Award of 2000.
Family: Wife Chandrikadevi and daughter Gopika and son Gopish.