FACT Padmanabhan was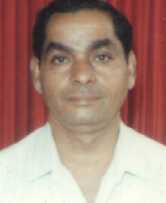 born on April 26, 1947. His father is Narayana Pilla and mother is Madhavi Amma.
From the age of twelve he started his Kathakali education in Thiruvalla under Thiruvalla Raman Pilla, Madhavan Pilla and Krishna Pilla. His first performance was at Thiruvalla Temple. From 1965-72 learned Kathakali from FACT Kathakali School as the disciple of Kalamandalam Karunakaran and Kudamaloor Karunakaran Nair and with Govt Scholarship continued practice under Padmasree Kalamandalam Krishnan Nair for 2 years.
His expertise is in 'Sthree' characters. Also doing all characters except 'Thadi'. Now doing private teaching of Kathakali.
Has performed Kathakali all over India and in foreign places like Tehran, London (Oldwitch Theatre), all European countries and America. Has received award of Kollam Kathakali Club.
Family: Wife Prasannakumari, son Pramod Kumar and daughter Priya.