Chettikulangara Unnikrishnan was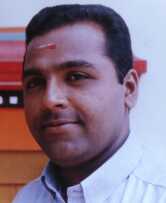 born on July 5, 1973. His father is K.Vasudevan Unnithan and mother is K.S.Saraswathi Amma.
He learned Kathakali from 1982 under Evoor Sankara Pilla and after that learning under Kalamandalm Krishna Prasad from 1984. His first performance was at Chettikulangara Devi Temple on 25th Dec 1987. His primary education is upto Pre Degree. His expertise is in "Kathi" and "Pacha" characters.
Has won first prizes in many Kerala State School Youth Festivals and Kerala University Youth Festivals. And has won 'Cholliyattam' competition of 1989-90 held at Thripunithura Kalikotta Palace. Has performed Kathakali in many places like Thirivananthapuram Theerdhapada Mandapam, Chenkottukonam Asramam etc. Has performed also in Dooradarsan and Akasavani.
Family: Wife Jayasudha.R.