Keerthy Unni was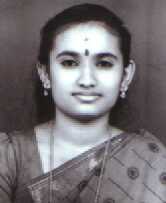 born on Dec 14, 1982. Her father is K.V.V. Unni working at Cochin Shipyard and mother is Sudha Unni.
She learned Kathakali Music from 1998 under Cherthala Thankappa Panikkar and Kumari Varma. Also learning Kathakali Vesham from 1999 under RLV Damodara Pisharody and FACT Padmanabhan. She is learning Carnatic Music for last 12 years and Violin for last 6 years. Performed concerts and participated Kathakali performances (Music and Vesham) in many famous temples. She passed MA in music from Kerala University. Recently sang with Tripunitura Ladies Kathakali Troupe at Ahmedabad.
Her expertise is in characters like Krishna and Dharmaputhrar in Duryodhana Vadham, Lava and Kusa in Lavanasuravadham, Arjuna in Kiratham, Krishna in Kuchelavritham, Damayanthi in Nalacharitham Onnaam Divasam, etc. Now she is performing under Thripunithura Kathakali Kendram (Women's Troupe) as Singer and Vesham. Has received award for Kathakali Music from Eranakulam Karayogam for the last three years.
She is a graduate Electronics and Telecommunication Engineer. Married in 2005, now working as lecturer at Father Agnell College of Engg, Vashi, Mumbai and studying for M.Tech also. Husband Mr.Rajesh is working with BPCL, Mumbai. They have a daughter Nandini studying LKG.
Family: Father, Mother, Grandmother, brother (Mridangam student), Husband and Daughter.