C.R. Ranjith was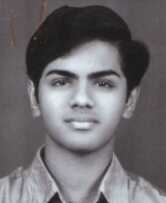 born on April, 1981. His father is Late C.P. Ramamithran and mother is T.N. Ananthalakshmi.
Has passed BSc Degree and doing travel, tourism and Airlines Management Course. Learning Kathakali since 1988 under the guidance of RLV Damodara Pisharody. Scholarship Holder for special training in Kathakali since 1993 from Government of India. Learning Ottanthullal since 1996 under Kalamandalam Prabhakaran. Learning Classical Music since 1994 under the guidance of Mrs. Thripunithura Lalitha (Principal, RLV Music Academy, Thripunithura). Learning Bharathanatyam under Mrs. Kalakshethra Usha Menon.
Has won 3rd prize with 'A' grade in the Kathakali group in State Youth Festival 1995. Winner of 1st prize with 'A'grade in Kathakali and Ottanthullal competition in the All Kerala Inter University Youth Festival conducted in connection with the diamond jubilee celebrations of Kerala University, at Alleppey in Nov, 1998. Winner of 'A' grade in Kathakali and Ottanthullal in the MG University Youth Festival 1997 & 1998. Won 1st prize in the One Act play in the South Zone Interstate University Youth Festival 1996-1997 held at Bangalore. Won 2nd prize in One Act Play in the National Youth Festival 1996-1997 held at Mumbai. Winner of 1st prize in the MG University Drama competition 1998, 2nd prize 1999, 3rd prize 2001. All India Radio (Cochin & Trichur) broadcasted recorded programmes in Tamil & Malayalam recitation and Kathakali Sangeetham in 1996, 1998 & 1999. Participating in Kathakali, Ottanthullal & Bharathanatyam State programmes regularly and is regular guest artists in Cochin Cultural Centre (An Academy of Arts & Performing Theatre) Cochin.
Asianet telecasted a 'Talent Interview' programme in 'Suprabhatham', in June 1999. Was a member in the 'BHARATH DARSAN' programme team organised by the MG University in August 1999. Gave performances of Kathakali and Ottanthullal in different Universities of India and before various Malayalee Associations as a part of National Integration. Was a Music Director and Organiser of the College of the College team which won 1st prize in the "Instrumental Jugalbandhi" competition and 3rd prize in the "Instrumental Jugalbandhi" competition at zonal and State level All Kerala Inter University Millennium Youth Festival organised by "Mathrubhumi". Has won 1st prize in Kathakali and 2nd prize in Ottanthullal in the District level competitions of KERALOTSAVAM 1999 & 2000. Won 2nd prize in Kathakali in the State level KERALOTSAVAM 1999 and 3rd Prize in 2000. Acted with Mohanlal in the Malayalam Film 'Life is Beautiful' released last year. Has gave a kathakali performance before Prime Minister of India during his visit and stay at Kumarakom recently. Also won 3rd prize in the Kathakali, Ottanthullal and Malayalam recitation with 'A'grade in the MG University Youth Festival 2001.
His expertise is in 'Pacha' (Krishnan in Duryodhanavadham, Bheeman in Kalyanasougandhikam and Lavan & Kusan in Lavanasura Vadham) and 'Sthree' charecters (Lalitha in Kirmeera Vadham and Lalitha in Narakasura Vadham).