Mathoor Govindan Kutty was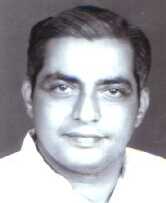 born on Oct 5, 1940. His father is Damodaran Namboodiri and mother is Karthyayanikunjamma.
After passing SSLC, He learned Kathakali in Mathoor kalari for 15 years under Nedumudi Kuttappa Panicker, Ambalappuzha Sekhar etc. His expertise is in in "Minukku" (Sthree) characters, and "Pacha" namely Krishnan, Sreeraman etc.
Has received Kaliyarangu Award, Guru Chengannur Memorial Award, Kollam Kathakali Club Award etc.
Family: Wife A.K. Rajeswary who is the daughter of renowned Kathakali artist Kudamaloor Karunakaran Nair. Sons Unnikrishnan and Muraleekrishnan who is a young and talented Kathakali actor.