Kalamandalam Venkitt was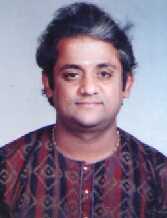 born on July 7, 1958. His father is Late Rama Iyer and mother is Lakshmi Ammal.
After school final, joined Kerala Kalamandalam for learning Kathakali in 1971. He had his training under Gurus Kalamandalam Vijayan, Kalamandalam Raman Kutty Nair and Kalamandalam Padmanabhan Nair. Emerged as an exponent of "Strivesham" in the all relevant female roles and role of Lord Krishna and toured all over India and abroad. In 1977, on the invitation of Kalamandalam Govindan Kutty, Venkitt moved to Kolkata to perform in Kathakali shows. Having received inspiration from his sister Kalamandalam Padmini, who is now the Principal of Kerala Kalamandalam, he decided to learn Bharatanatyam. He took it quite serious and developed into a captivating and dynamic performer under Guru Thankamani Kutty. In 1991, he had the privilege to participate at Kerala Kalamandalam Diamond Jubilee celebrations, Chidambaram Natyanjali Festival and Bharatanatyam Festival in Bombay organised by Darbar.
Venkitt choreographed many Bharatanatyam item in his own views and style. Received appreciation on his experimental presentations on Rabindra sangeeth in South Indian classical dance style. Joined Rabindra Bharathi University Kolkata in 1986 as a Lecturer in Kathakali to which he is still attached. He is a top graded Artist of Dooradarshan and his programmes have been telecast on National Programme several times. Founded Uma Kalalayam in 1995 in memory of his beloved wife Late Uma Venkitt for promoting, popularising, performing and imparting training in South Indian classical dance forms viz. Bharatanatyam, Mohiniattam and Kathakali. He is the Hony. Principal of Uma Kalalayam.
Family: Wife Preetha Venkitt is the disciple of Pushpa Shankar and Thankamani Kutty. She is also Founder Director of Uma Memorial Kalalayam Kolkata. Daughter Sangita is a student and a talented Bharatanatyam performer and son Abhiram is just 5 years old.