N. Mukundan was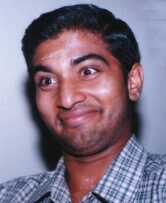 born on July 14, 1977. His father was N.K.Narayanan Ilayath and mother is C.P.Savithri Antharjanam. His primary education is AHSLC (Art High School Living Certificate), Kerala Kalamandalam and completed Pre Degree.
He learned Kathakali from Kerala Kalamandalam. Has passed Diploma from 1990 to 1996 and Post Diploma from 1996 to 1998. Has practiced under Kalamandalam Vasu Pisharody, Kalamandalam M.P.S. Namboothiri, Kalamandalam C. Gopalakrishnan, and Kalamandalam Krishna Kumar. His expertise is in "Minukku", "Pacha", and "Kathi" characters.
During his study of Diploma he has received M.A. Vellody Award, Vazhenkada Kunchu Nair Award, Kavalappara Narayanan Nair Award, A.D. Bolland Gold Medal, Guru Kunchu Kuruppu Award, Kummini Award, Achutha Varrier Award, C.V. Subrahmania Iyar Endowment, Guru Gopinath-Thankamani Award and during his Post Diploma has received Vazhenkada Kunchu Nair Award and Calcutta-India International Award. Is receiving Scholarship of Dept of Culture-Ministry of Human Resource Developement.
Family: Mother and four brothers.