Kalamandalam Vijayakrishnan was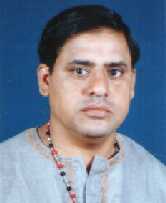 born on Dec 12, 1960. His father is Late Kalamandalam Krishnan Kutty Poduval and mother is Late Radha Poduvalsiar.
Vijayakrishnan had his initial training in Chenda from his father and after his primary education, joined Kerala Kalamandalam in 1974 as a 'Chenda' student and successfully completed the course under the then great Chenda maestros - Kalamandalam Achunni Poduval, Pallassana Chandra Mannadiar and his father Kalamandalam Krishnan Kutty Poduval who was then Professor in Kerala Kalamandalam.
Immediately after completion of his course from Kerala Kalamandalam, at the instance of his father, he had training under Late Kottakkal Kuttan Marar at PSV Natya Sangham and gained good stage experience.
He got the opportunity to perform 'Melappadam' with his father on several stages and also in the Album/ Cassette released by HMV.
Vijayakrishnan also had special training under Late Thrithala Kesava Poduval and is an exponent in "Thayampaka" and other temple performance (Kshetrakala) of Chenda and Edakka for which he had training from Shri. Karimpuzha Gopi Poduval and Rama Poduval.
Participated in many Kathakali and other classical dance programmes throughout India and abroad individually and also with Kalamandalam troupe.
The stage experience gained by him under his father's guidance makes him perform with unique ease and perfect grace as an accompanist in the fields of Kathakali, dances and even for musical programmes.
The latest feather to his cap was his success in training chenda student Mr. Olivia alias Krishnachandran from France, preparing him for a full-fledged Arangettam within a short span of one month.
Vijayakrishnan is at present Assistant Professor (Chenda) in Kerala Kalamandalam.
Family: Wife Prasanna Vijayakrishnan, Son Krishnapraveen (class VIII student learnt 'Thayampaka' and performed on several stages. Daughter Krishnaprabha (class II student)