Margi Vijayakumar was born on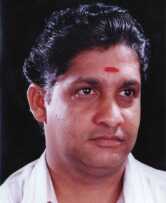 May 31, 1960. His father is Velayudhan Nair and mother is Lalithamma. His primary education is S.S.L.C.
He learned Kathakali from 1975 to 1983 in Margi, Trivandrum. Main teachers were Kalamandalam Krishnan Nair, Mankulam Vishnu Namboothiri, Inchakkat Ramachandran Pilla and Thonnakkal Peethambaran. He is now working as teacher in Margi.
His expertise is in "Sthree" (Minukku) characters. Has received many awards like K.V. Kochaniyan Memorial Award, Club Awards of Kottayam, Alappuzha, Chengannoor, Kollam etc. Has performed all over India under the society SPIC-MACKY.
Has performed Kathakali in Bhutan, Sreelanka, Singapore, Malaysia, Sweden, Tunisia, Japan, Thailand, Germany, UK, Dubai, Spain etc.