Krishnan Namboothiri P.R.
Krishnan Namboothiri P.R. was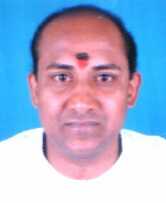 born on May 5, 1968. His father is Kathakali Natan late Raman Namboothiri and mother is Smt. Rajam. After his Pre-Degree learned Kathakali under the guidance of Sri. Chandramana Govindan Namboothiri at Natyarangam Kathakali School. Expertised in 'Minukku' (Sthree) characters namely Damayanthi, Lalitha, Panchaly etc. Also talented in 'Pacha' characters namely Arjunan, Bheeman, Kuchan etc. Regularly perform Kathakali in temples and Kathakali clubs.
Presently working as Melsanthi under Travancore Devaswom Board temple. Family: Wife and one daughter.
Contact Details:
Krishnan Namboothiri P.R.
Pookkanni Mana
Vengola P.O.,
Perumbavoor, Ernakulam Dt.
Kerala, INDIA.
Telephone:
(91) 0484 527587
Krishnan Namboothiri P.R. as Rugmini in Kuchelavritham

» Next Artist
Kathakali Actors | Kathakali Singers | Chenda Artists | Maddalam Artists | Chutti Artists | Chamayam Artists
[Kathakali] [About Kathakali] [Evolution] [Props, Rituals and Customs] [Mudras] [Navarasam] [Photos] [Artists] [Videos]