N.P. Sankaranarayanan was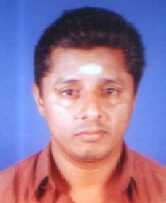 born on March 19, 1959. His father is P.M.Krishnan Marar. Trained in Chenda at the age of 12 under the strict instruction of Late Thiruvegapura Sankunni Poduval. Learned all solo items of Chenda like Melam, Thayampaka, Keli, Kshethrapani etc. His formal education was upto SSLC. Completed training in Panchavadyam on leading instruments, Timila and Edakka under Late Ramamangalam Ramamarar.
Completed Diploma and PG in Kathakali Chenda from Kerala Kalamandalam in 1977-1983 under great maestros like Late Kalamandalam Krishnan Kutty Poduval, Late Kalamandalam Chandramannadiyar and Late Kalamandalam Achunni Poduval. The mode of training was in perfect Gurukula style. Could play Maddalam performances. Worked in Kalamandalam as a Chenda Teacher in a temporary basis. Presently working in Viswa-Bharathi as an Adhyapak in Chenda for a period of 15 years at Sangeeth Bhvana, conducting classes upto PG level.
Awarded Moothamana and Venkichaswami awards as the best student of Kalamandalam in 1982. Won K.N. Pisharody memorial award for the best student in Kalamandalam in 1984. Received a Certificate of Merit from the Director General of National Cadet Corps for the participation in Asiad '82 with Kalamandalam troupe. Won The National Scholarship to young workers in different cultural fields instituted by the Department of Culture, Govt of India for 1982-1984. Took specialised higher studies in Kathakali Chenda under Chenda maestro Late Kalamandalam Krishnankutty Poduval.
Has conducted Thayampaka and Keli programmes in so many stages all over India and performed Kathakali Chenda all over India and foreign countries like London, Norway, Denmark, Finland, Germany, Bulgaria. Accompanied Kalamandalam Govindan Kutty on the East-West Music and Dance encounter tour in UK organised by cellist and music Director Anup Kumar Biswas in 1987 and also performed in the presence of Her Highness, Queen Elizebeth.