Mrs.T.N.Aryadevi was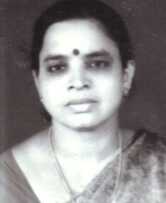 born on Aug 3, 1948. Her father is Late Neelakandhan Nambiar.
She has learned Kathakali Music from 1979 to 1980 under Cherthala Thankappa Panickar. Her primary education is upto SSLC.
Has participated in Kathakali performances about 300 stages all around Kerala. Has perfomed Kathakalipada Kacheri in about 10 stages. Apart from the role of house wife she is active in Kathakali performances now also.
Family: Husband T.K.Kesavan Kutty (Dy.Manager, Indian Oil Corporation), two daughters and one son.