Sri Ganesh is a research scholar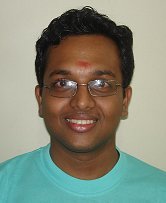 in National University of Singapore doing research in Computer Engineering. He started learning Kathakali at the age of 12. His teachers include Sri Kalanilayam Madhumohan, Sri R.L.V. Damodara Pisharidi, Mrs Saritha Varma, Sri Sadanam Balakrishnan and Sri Kalamandalam Biju.
He performed Kathakali in various countries including India, Singapore, Malaysia and Indonesia. He had also learnt the basics of Carnatic music, Therukkoothu and Yoga. He got an opportunity to play Kathakali in front of Singapore president Mr. S.R. Nathan as part of World Malayalee Conference in 2008. He has conducted many live Kathakali demonstrations in Singapore and Indonesia. He was part of the team, which represented Singapore in International Ramleela festival held in Madhya Pradesh in 2008.
His expertise is in 'Pacha' (Akruran in Kamsavadham, Arjunan, Sree Krishnan, 'Minukku' (Lalitha in Poothanamoksham and Kirmeeravadham, Mohini in Rugmangata Charitham, Vasishtan in Tadaka vadham etc). His parents are Sri S. Neelakanta Iyer and Sreemathi P Vasantha. He has a younger brother Mr Girish who is a Mimicry/Monoact expert.





Contact Details:
Ganesh Neelakanta Iyer
Research Scholar
Department of Electrical and Computer Engineering
Computer Networks and Distributed Systems Laboratory
National University of Singapore
Singapore
E-mail:
ganesh.vigneswara@gmail.com
Ganesh Iyer as Sree Krishna

» Next Artist
Kathakali Actors | Kathakali Singers | Chenda Artists | Maddalam Artists | Chutti Artists | Chamayam Artists
[Kathakali] [About Kathakali] [Evolution] [Props, Rituals and Customs] [Mudras] [Navarasam] [Photos] [Artists] [Videos]