Born on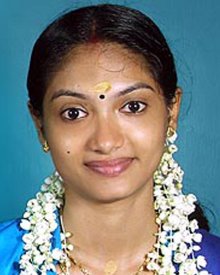 1984 May 25 in Shoranur a village from Palakad dist. Father is Ullanithodi Chandran, Mother is Leela. Kalamandalam Prasheeja was first guru for Barathanatyam, when she was 4 and half years old to 13 years old.
Learned in Kerala kalamandalam at 1999 to 2003, A.H.S.L.C and Plus two Mohiniyattam & Kuchupudi. Gurus Kalamandalam Leelamma, Kalamandalam Hymavathi and Kalamandalam Raja Lakshmi. A.H.S.L.C. examination in 2001 high marks for mohiniyattam in Kalamandalam.
She has performed in Gogulam festival with actor Vineeth at Thrissur indoor stadium on November 2003, Mohanlal show at Cochin inter national stadium on 25th Nov t 2003. Has performed 3rd Festival Dell India Milano Italy 25 AI 28 di Marzo 2004. 2005&2006 Ras Al Kahimah Indian Association at U.A,E, World Heritage Association Taiwan Lecture, Incredible India at Min-Sheng Concert Hall Taipei with ICCR Artist May 2007,South village Art Center Taipei 2007 Jun, Midsummer Festival Taipei County Young-Ho City 2007 August, Incredible India Maharaja Cuisine at the Howard Plaza Hotel Taipei 2007 October and International Travel Fair at Hyatt Trade Centre Taipei 2007 December. Have teaching experience in India,2004-2006 in U.A.E,2007 in Taipei.
Contents Of Workshop-Body exercises, Hand jesters Facial expression, Eye exercise, Step, Rhythm, Choreography, Body language, Dance movements and Theatre movements.