Born in a family which lives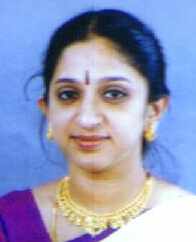 in the very heart of cultural spirituality, Smitha Rajan was blessed and lucky to have grandparents like Padmasree Kalamandalam Krishnan Nair and Kalamandalam Kallyanikuttiamma the all-time great personalities of Indian Classical dance. Blending into that environment from a very tender age, Smitha started learning Bharatanatyam from the age of 4 from Smt. Kala Vijayan (her aunt, recipient of the Kerala Sangeetha Nataka Academy Award) and performed her Arangettam even before she turned 5! Her grandfather taught Kathakali and fine tuned her Abhinaya and Mudras. Her mother Smt. Sridevi Rajan a renowned dancer and teacher taught Smitha her first lessons in Mohiniyattam. Smitha also learned Carnatic music from Prof. Kalyanasundaram for over 7 years. For last 15 years she has been in the forefront of Mohiniyattam, Bharatanatyam and Kathakali actively performing around the world in all these dance forms. But her primary focus has been on Mohiniyattam - to keep up the heritage handed on to her by her legendary grandmother.
She has been honoured by many organisations in India and abroad. Smitha travelled extensively in India for Kendra Sangeethnataka Academy festivals and other dance festivals. She is in the panel of performers for SPIC-MACY and travelled extensively for their programmes. Has given lecture demonstrations in universities and other cultural organisations such as the Kalakshetra, Kalamandalam and the Nrithyagram for the promotion of Indian Classical dance forms. Has performed in Europe, US, Far East, Middle East and completed more than 1000 professional stages world wide even before she turned 30. She has students from all over India and from countries like Japan, France, USA, UK etc. visiting her regularly.
Smitha Rajan now lives in USA with her husband Jyotis Balasubrahmanian and their sons Jaidev and Abinav.