Prof. Kalamandalam Leelamma,
one of the foremost Mohiniyattam exponent of India, hails from Kottayam district in Kerala. She joined Kerala Kalamandalam as a student with distinction. Before joining Kalamandalam she had lessons in classical dance under a local guru. She had her intensive lessons in mohiniyattam, bharatanatyam and kuchipudi Under Kalamandalam Sathyabhama, A.R.R Bhaskar and Kalamandalam Chandrika. She passed out with flying colours. She joined Kalamandalam as a teacher at the age of 18. Even in the days of her studies She has been known as one of the best dancers among contemporaries in the dance Troupe of Kalamandalam. She specialised in Mohiniyattam and had conducted research studies and is still continuing her researches. She represented Kerala in many national and international dance festivals held over the last three decades. Excellence in facial expressions, well disciplined in karanas and innovations in her approach to art, Prof. Leelamma reflects at large the strength of tradition and grace of classical simplicity in mohiniyattam. She has won several recognitions such as Kendra sangeet natak academy award, Kerala sangeet natak academi award, Kerala Kalamandalam award Kaladarpanam award etc. She is one of the few senior artists in Mohiniyattam who has a host of talented disciples both in India and abroad. She visited several countries of Great Britain for the performance of various original compositions of Mohiniyattam in 1991 and 1992. She was also the invitee for the workshop on Mohiniyattam organized by Kalachetana in London. In 1999, she visited France on the invitation of ARTA, an official organization of Paris for performing arts, functioned as the director of the dance festival and performed in various stages. She had her programs in several Gulf countries during the period 2000-2005. Her talent was appreciated by the leading organizations of dance festival and she was invited to the Khajuraho dance festival, Manali festival, Dasra festival, PATA festival, Soorya festival, Mudra festival and so on.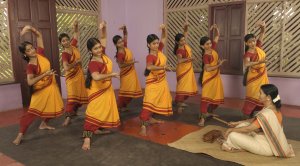 Prof Kalamandalam Leelamma had her senior fellowship from the Cultural department, Govt of India in addition to the fellowship received from JT Pac in the field of Mohiniyattam. She has been conferred titles of 'Natya Mohini' by Kunchan Nambiar Smarakam, Govt of Kerala as a mark of her presentation of Kalyana Sougandhikam Thullal into Mohiniyattam using the literature of thullal and it was the first attempt of its type. Also she had 'Natyasree' title by Kaladarpanam, Cochin. In 2000 under her guidance the first national seminar in Mohiniyattam for 7 days was organized by Swathichitra, and the seminar discussions and deliberations made remarkable outcome in the history of Mohiniyattam. Through her research and by group discussion she invented many novel steps, and included them in the existing "Adavus" of Mohiniyattam and subdivided and codified them. It has been a unique attempt and made her the foremost Mohiniyattam dancer of the country.
She is one of the 'A top' grade Mohiniyattam performer and exponent of the country and also the I.C.C.R panel member for performance in Mohiniyattam outside the country. Along with new items of choreography, she is engaged in composing the classics by great poets and as a result she had 'Magdalana Mariyyam' of Vallathole, 'Kalyana Sougandikam' of Kunchan Nambiar, 'Ujjayani' of O.N.V Kurup and 'Mambazam' of Vylopilli Sreedhara Menon and 'Veena Poovu' of Kumaran Asan. Apart from the role of senior artist, she held post of chairperson of various examinations of Mohiniyattam in various universities and was a member of the syllabus committee for the faculty of fine arts of Sree Sankara Sanskrit University, Kalady and served for two years as Reader in the same University. She was one of the subject experts for the selection of talented youth, who are eligible to get scholarship in Mohiniyattam sponsored by cultural department, Govt of India. A book with all relevant details and growth of Mohiniyattam is at her credit which was a cherished ambition of Keralites with special details on "Adavus". She is now working as visiting professor in Kerala Kalamandalam, Deemed University for Art and Culture, the pioneer institution for classical dances in the world, after her retirement from the same university as the Head of the Department Dances.